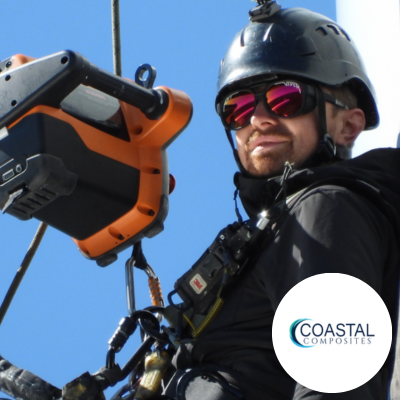 Kevin Norwood
CEO, Coastal Composites
---
Kevin Norwood, CEO of Coastal Composites, is a knowledgable professional with over a decade of experience in the field of composites and wind turbine blade technology. Graduating from The Landing School in 2014 with AAS in Marine Technology, he began his career as a blade repair technician.
During his time spent working for Vestas, Norwood specialized in advanced composite repairs, extensive experience in handling large-scale repairs, intricate repairs involving many layers, tip replacements, and pre-preg carbon repairs marked him as a distinguished professional in the industry. He also achieved a significant milestone in his career by obtaining SPRAT certification, enhancing his repertoire as a rope access technician.
In 2020, Norwood decided to leverage his experience and expertise by co-founding Coastal Composites. As the CEO of the company, he brings a hands-on approach to the leadership role, often assisting in the field for large or complex repairs. With hundreds of advanced repairs under his belt, he is a recognized SME in the field of wind turbine blade composites.