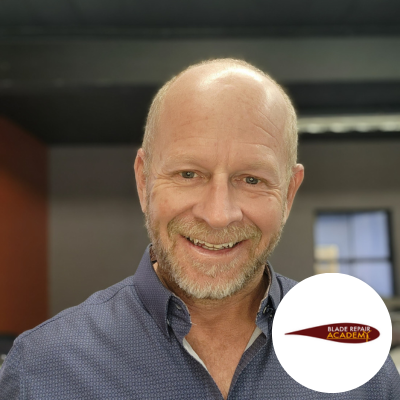 Alfred Crabtree
Founder and CEO, Blade Repair Academy
---
Alfred entered the blade services industry in 2015 as a second career, via an interest in rope access. As an avid Caver in the southeast, Alfred developed rope access skills for the sake of cave exploration and expedition. After involvement in two life saving rescues, he searched certification in Cave Rescue. Learning that SPRAT was a similar money and time commitment, he went the more practical path of industrial certification. He soon after found employment at Rope Partner, where over six seasons developing the unique skills required to perform repairs on rope he earned the reputation of a natural mentor. Two seasons were spent at WindCom as the Training Development Manager, where he developed the composites training program from scratch and ran 200 trainees through it in that time.
Realizing the program should be scaled even more, should be a profit center, and can help improve the overall performance of the industry, he opened Blade Repair Academy in Jan 2023, providing practical and contemporary training of composite repairs on wind turbine blades.
Alfred lives in Tennessee, and has family obligations that demand coming off the road and being local. It made sense to open the academy and share this knowledge with technicians in the proper training environment.
He is an avid outdoorsman, a grandfather 4x, and enjoys paragliding, mountain biking, paddling, caving, snowboarding, and generally mucking about in the woods.